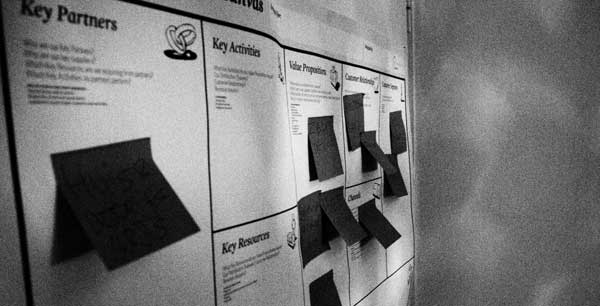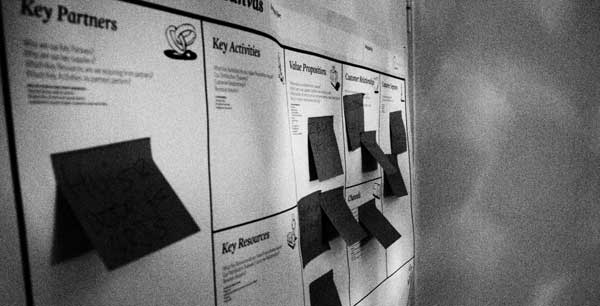 "We gebruiken het niet meer" zuchte een productmanager op mijn vraag of ze dat model nog wel eens gebruikten. Op de vraag waarom bleef het even stil. Eigenlijk is het gewoon te ingewikkeld, vooral met een double sided model zoals het onze. Daarbij, vervolgde ze ,bouw je geen enkele historie op, dus het wordt na verloop van tijd allemaal steeds ingewikkelder'.
Het business model canvas dat ik twee weken geleden opbouwde voor Wevent is letterlijk van de muur gegleden en door niemand meer opgehangen. En dat terwijl je aan de hand van dat model eenvoudig simpele taken uit kunt voeren, zoals het in elkaar zetten van een pitchdeck richting investeerders, of flyers om direct naar eerste klanten te sturen. Het BMC verraad direct welke boodschappen, welke kanalen en welke klanten. Nuttige en fijne input voor een briefing.
Is dat model nou te moeilijk, of gebruiken we het niet goed? Is het model meer studiemateriaal voor tijdens een cursus? Of een snelle manier om gedachten te ordenen, zoals een Moleskine doet voor kortstondige brainwaves? Of..?
Het model zorgt er soms voor dat mensen dingen gaan zien die er eerst nog ergens onder de oppervlakte bestonden of onderscheid kunnen maken tussen zaken die ze tot dan toe niet hadden gezien, zoals het verschil tussen partners en klanten of het verschil tussen kanalen en relatie. Een goed BMC vormt uiteindelijk korte zinnen, en die zinnen vormen een verhaal: het business model.
Het business model is een opéénschakeling van keuzes: teveel keuzes leiden tot veel post-its en deze hebben het effect dat er geen rode draad meer is. Canvassen met teveel post-its proberen een te grote scope te vormen, en daar komt de moeilijkheid ook vandaan. De mooiste business modellen die Ostenwalder in z'n boek beschrijft zijn vaak van compexe organisaties die terug zijn gebracht tot de kern. Die kern, die allerbelangrijkste post-its: daar draait het BMC om. Bedriegelijk simpel. Daarom is het Business Model Canvas easy to learn, difficult to master: net als veel mooie dingen.